Never Compromise on Accuracy and Precision
UPRtek specializes in redesigning lighting instrumentation into handheld form factors, but our mandate is to never compromise on accuracy and performance.
UPRtek spectrometers uses Diffraction Grating with a CMOS Linear Image Sensor to gain very tight bandwidth differentiation.
Pocket-sized, ultra portable.
The MK350D Compact spectrometer is only 90mm tall and weighs only 70g (with batteries).  This means it's ultra portable and pocket-sized. That makes a difference for users like lighting designers, who sometimes need to climb up to high places to measure lighting (e.g. stage lighting on scaffolding, or ceiling lights).
Bluetooth wireless reach
The MK350D also has built in wireless Bluetooth facilities, allowing you to use your mobile device to control the MK350D from afar.  "Built-in" BT wireless means that connectivity to other devices is more reliable.
With BT, not only can you have full color display and a larger screen, there is a lot of room for creative QC/QA activities.
Manufacturing – SDK, Modbus Interfaces
It's a basic product but precision is not compromised.  That's why LED manufacturing companies are employing the MK350D on their production line to integrate with their own RD software/hardware.  Mk350D uses an SDK (Systems Developer's Kit) and the increasingly popular Modbus interface.

Just the basics, please!
MK350D gives you just what you need, basic numbers to make quick and decisive evaluation and assessment of lighting products and lighting environments.
Flicker and Blue Light metrics
MK350D – Connect up to larger digital world.
MK350D can be used with our uSpectrum PC software to connect (USB cable) up to PC/laptops.  You can see all of your data and graphics on the big screens in full color.  The micro SD card can transport data including graphics as jpg files and data in excel compatible format.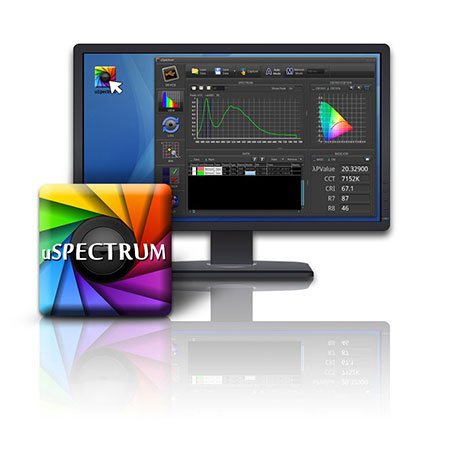 Spectrum

Sensor

CMOS Linear Image Sensor

Wavelength Range

380 to 780 nm

Wavelength Data Increment

1 nm

Spectral Bandwidth

Approximately 12 nm (Half Bandwidth)

Measurement Range

70 to 70,000 lx

Features

Measuring Capabilities

– Illuminance (LUX)/Foot Candle (fc)

– Correlated Color Temperature (CCT)

– CIE Chromaticity Coordinates

(1) CIE 1931 x,y Coordinates

(2) CIE 1976 u',v' Coordinates

Color Rendering Index (CRI, Ra) / R9

– Percent Flicker

– Spectral Power Distribution (SPD) mW/m2

– Peak Wavelength (λp)

– Blue Light Weighted Irradiance (Eb) w/m2

– Blue Light Hazard Efficacy of Luminous Radiation (Kbv) w/lm

– Blue Light Hazard Blue-ray % (BL%)

– Blue Light Hazard Risk Group(RG)

System

Display

0.96″ 128X64 mono OLED

Battery Operation Time

≦ 3 hours / Fully Charged

Dimensions

90 x 30 x 32.2 mm(H x W x D)

Weight (with Batteries)

70 g ± 5 g

Data Format

Compatible Excel

Display languages

English